I am very excited to be taking part in the "Around The World in 12 Dishes" adventure with some fantastic bloggers. We will be going on a journey around the world, (loosely) following in Phileas Fogg's footsteps, exploring 12 different countries with our children, by cooking 12 dishes with them, one for each country visited. you can read all about it at Glittering Muffins.
 If you would like to join us in our around the world journey you can use the linky below to get some inspiration and link up your own post too. Over at Gliittering Muffins you can download a fun placemat and passport to help you on your way.
Country 1 – United Kingdom
I thought the UK would be really easy for us, but I really struggled to think of something special, and this month has just been so busy for us that I've not had much time. Thinking about it now, I should have made a lovely Victoria Sponge cake or a nice roast dinner. Instead we made Bangers and Mash!
Bangers and Mash
Bangers and Mash is one of my favourite meals, unfortunately Z and S are not keen on mash for some reason, even though they love jacket potatoes but I like to keep trying food they say they don't like.
Ingredients
Sausages
Potatoes (peeled)
Gravy granules
Onion
Peas
Butter
Milk
Instructions
Cook the sausages as usual.
Boil the potatoes, when cooked drain and mash. Add a knob of butter and splash of milk. We sometimes add some English Mustard too.
Chop the onion and fry until soft, make up the gravy as per the instructions and add to the onions. Cook the peas in the gravy and serve.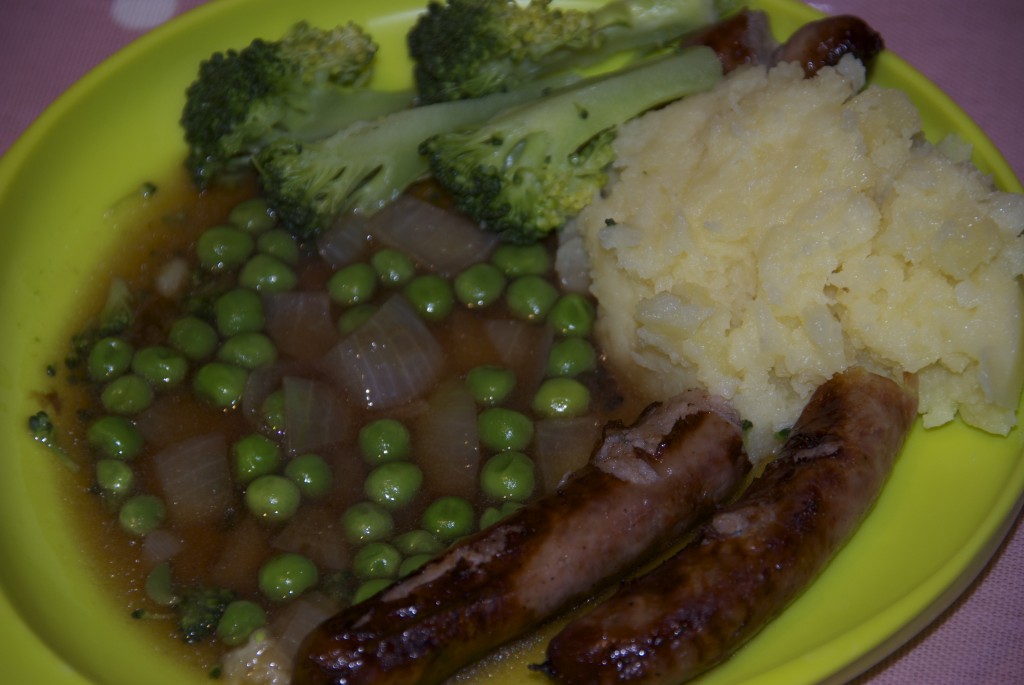 Our fruit and veg box this week from Abel and Cole had a lovely cabbage and apple recipe in the box that I thought would be a good side dish.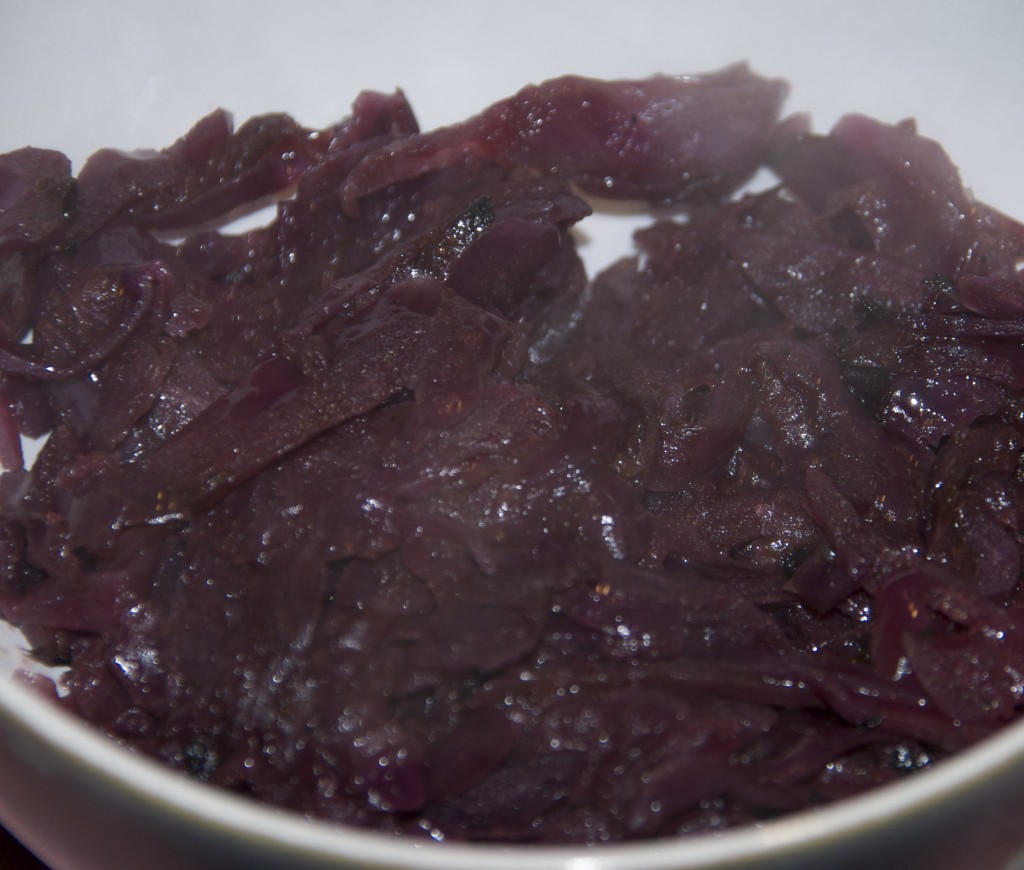 Baby H guzzled hers down, even the cabbage. Z and S ate the sausages and moaned about the mash a bit, but in the end it all got eaten!
Our favourite book
My favourite children's author has to be Roald Dahl, who is of course British. I did start to read 'Matilda' with Z recently but realised quickly it was a bit old for him. The Enormous Crocodile however is just perfect. We love it.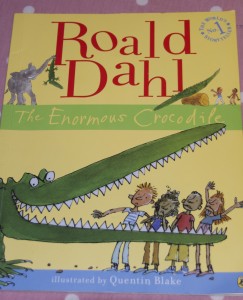 We decided to do a craft from the book, even though the craft itself is not something from the UK as such.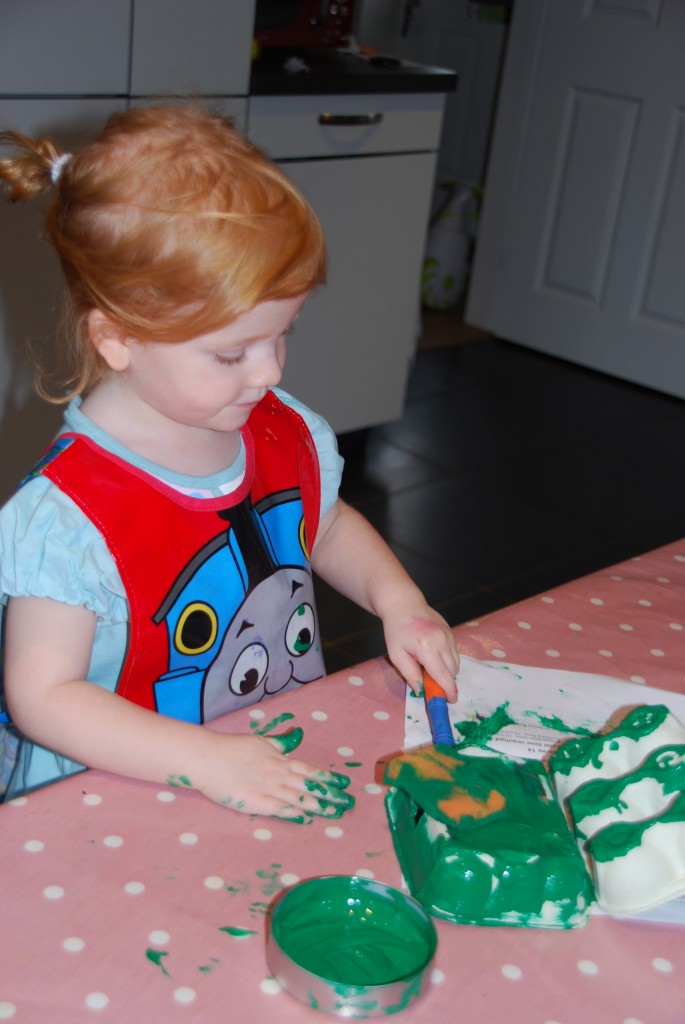 S painted the egg box green, and left it to dry. We then added eyes and teeth to make our very own Enormous Crocodile.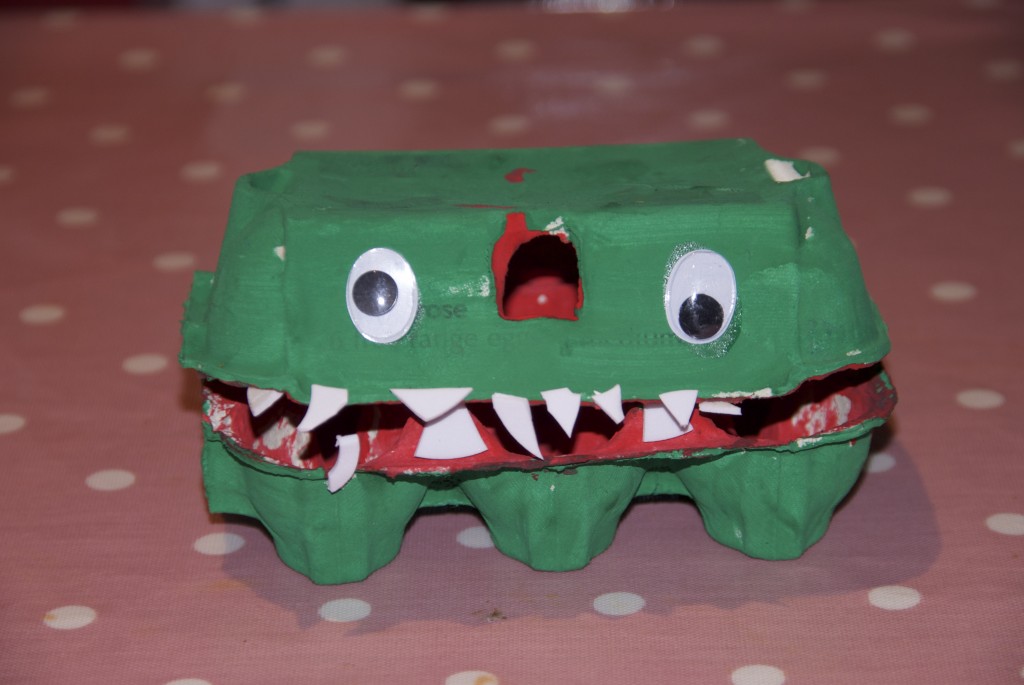 I would love to see what you come up with and I'm sure there are much better ideas than mine on the linky below. Do go an see what recipes and crafts the other blogs tried and pop back on the 1st April to see where we are off to next. I really hope you join us on our journey around the world.
The other bloggers taking part are Adventures In Mommydom, Creative Family Fun, Glittering Muffins, Juggling with Kids,  Kitchen Counter Chronicles, Make, Do & Friends, Mom 2 Posh Little Divas, Mummymummymum, Rainy Day Mum, Red Ted Art, The Educators' Spin On It and The Outlaw Mom.
Don't forget to grab the badge from GlitteringMuffins.
The egg carton is also linked to the Tinker Lab challenge