Z spent a lovely peaceful hour by himself building this brilliant train track last Monday morning.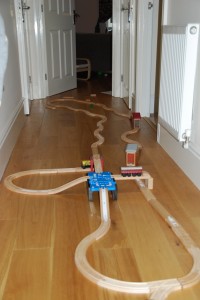 10 seconds later S came crashing through, grabbing bits of carefully laid down track and waving them around her head, followed closely behind by Baby H grabbing trains and making them all a bit damp.
Z went a bit red, threw his hands up in the air and shouted 'Mummy, why did you have to have these sisters?, take them to Luca's house, so he can see what its like'.
Poor Z its hard being the big brother.
Please link up your own funny post below, and take a look at the others. No need to do anything special or fancy, just add your link! I look forward to reading them.