Before I had children I had this idea that they would all be perfectly presented, immaculately clean and sit around reading books and doing puzzles. Instead, they are usually covered with bits of food and run around shouting 'Lets play….'
Running and falling over
Aim of the game:
To get hot and sweaty, Z runs around then falls over on purpose usually dangerously close to a wall, door or the top of the stairs and little S falls on top of him. They giggle and start again.
To be the winner:
Last the longest without crying. Bonus points for making the other player cry just a little bit, but not enough to stop the game.
Game ends when:
I decide its too dangerous, or baby H wants to join in.
Car Racing
Aim of the Game:
To race around on ride-on vehicles for as long as you can without being told off for riding over toys, hitting doors or biffing each other.
To be the winner:
You get to keep the ride-on car for the longest….the trike or scuttle bug are seen as inferior. Bonus points for doing the biggest skids round the corners.
Game ends when:
Someone falls off or crashes into something valuable.
Tower building
Aim of the game:
To build the biggest duplo tower.
To be the winner:
Build the highest, wobbliest looking tower. Dangers include baby H who has a tendency to push the towers over or other players being sneaky and 'accidentally' knocking over your tower.
Game ends when:
Part of the tower falls on me or baby H, or when participants jump on the play table to reach the top of the tower.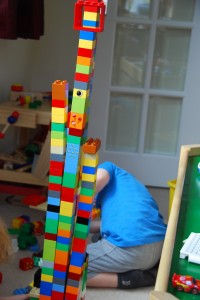 Pirates
Aim of the game
To make as much mess at tea time as possible, so it takes ages for me ages to clean up, giving Z and S time to turn the sofa into a pirate ship.
To be the winner
Jump off the sofa base onto the cushions. Try not to land in the sea.
Game ends when
Someone lands on the wooden floor sea and cries, or crashes into baby H.
Do your children play games like these? Please tell me its not just my 3!!