Both my little girls LOVE Hatchimals. There's something very special about hatching a toy and then being able to interact with it.
We reviewed the original Hatchimals a couple of years ago and more recently Hatchimals CollEGGtibles so were very excited to discover new Hatchimals have arrived and this time they're babies!! The big surprise this time is that you don't know whether you'll hatch a boy or a girl! The two main ones are Ponette and Cheetree but you will also find super special store exclusives – Chipadee, Monkiwi and Koalabee.
What's in the Hatchibaby Egg?
New Hatchibabies come with 5  accessories inside their egg for to help you care for your new baby Hatchimal. There's also a small hidden scroll which tells you the gender of your baby Hatchimal.
The egg won't hatch without you interacting with it and you can turn it off at any point by turning it upside down for 25 seconds, so don't worry about it happening without you. We started and stopped the process several times.
To start the process you just need to remove the plastic pins from the bottom of the egg and the Hatchibaby comes to life inside. The more you interact with the egg the faster it hatches. Ours started to break out much sooner than I thought, she was obviously eager to meet us.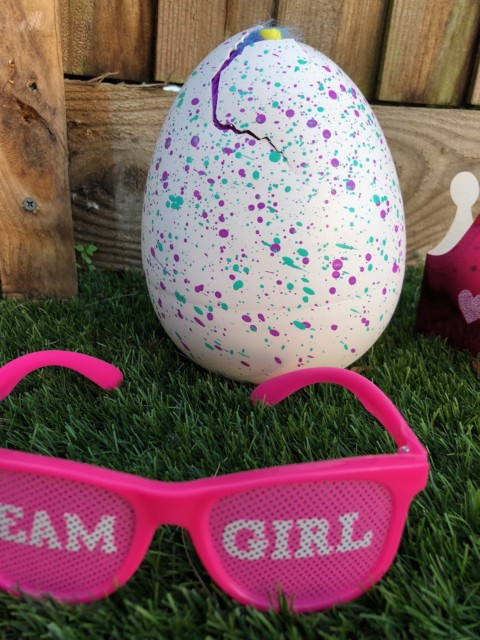 We loved that the egg rocks as the Hatchibaby moves around and the lullaby playing was very cute as well.
What can you do with the Hatcnhimal in the egg?
Hold the bottom of the egg to hear its heartbeat and cuddle it
Tickle the bottom of the egg with quick pats to make me wiggle and giggle
Tilt the egg backwards and hold it sideways to rock it to sleep
Quickly tilt the egg upside down and rightside up to play with it
Tap on the egg and hear your baby tap back
Put the egg down on a flat surface to watch it rock
Once hatched you can start to play with your Hatchimal. Remember to remove the gender scroll and the small pole that sticks up so your Hatchibaby can sit in its egg again.
Playing with the Hatchibaby
You can tell what the Hatchibaby wants by its eye colour.
Pink eyes – stroke its head, nuzzle its nose/forehead
Yellow eyes – Tickle its feet, tilt it upside down and rightside up to play
White eyes – rock it to sleep
Purple eyes – hungry – feed with the bottle. Press the lower beak to feed, keep pressing the bottle to keep feeding – if you over feed your baby will get gassy
Orange eyes – Gassy – Hold upright and pat the back of the head to wind your baby
Cuddle buddy toy – hold the cuddle buddy so the 'H' is to your babies chest and it will talk to it and then fall asleep
White eyes – Sleepy
Blue eyes – sad – use the cuddle buddy toy
Rattle – hold to the chest with the H facing your baby to make it dance (rainbow eyes) – touch the back of the head to make it stop
Red eyes – tantrum – put back into the bottom of the egg shell for time out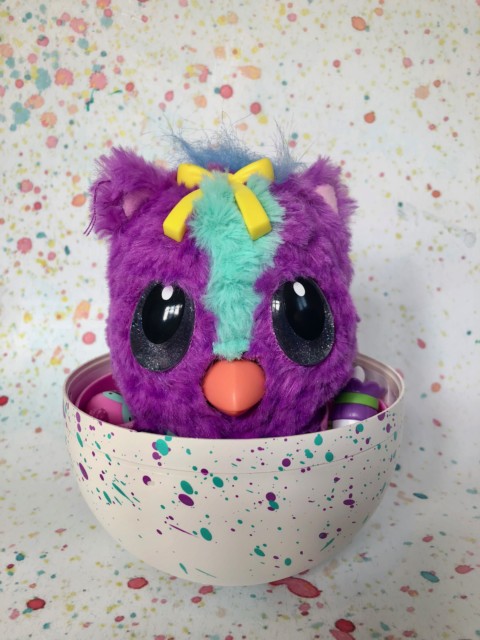 Secret tricks
Each Hatchibaby species has its own special trick. To find out what this is you need to touch and hold the back of its head and press the forehead sensor twice.
You can see the accessories in the photo below. The little high chair is also in the egg and is easily removed.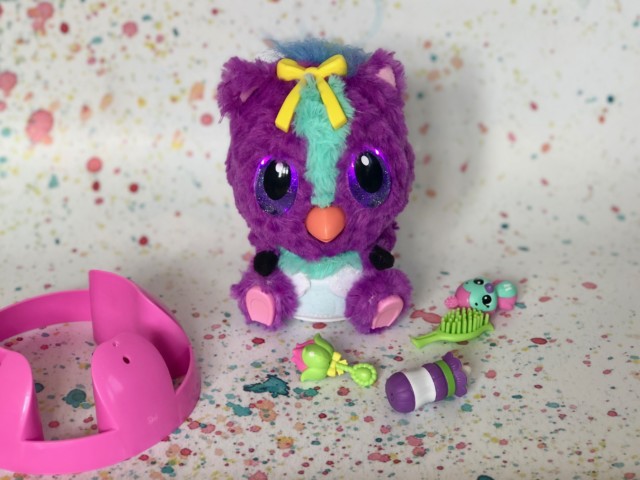 More ways to play
There are lots of different ways to play with your Hatchibabies once they have hatched.
Learn to talk – touch and hold both feet to record your voice. When you have finished let go of the feet and it will repeat what you say. This is very, very cute!! We loved the little Hatchibaby voice.
Peek-a-boo – Cover its eyes with your hand, remove your hand to hear "peek-a-boo"
Dancing – Give your Hatchibaby its rattle and it will sing and dance
There are also two mini games available:
Bouncy baby (flashing blue eyes) – Touch and hold the right foot for 3 seconds to enter. When the music plays bounce your hatchibabies backwards and forwards. When the music stops, stop bouncing.
Animal Colours (Flashing green eyes) – Touch and hold the left foot for 3 seconds to enter. Tap its forehead sensor (between the bow straps) when you see the colour that goes with the animal sound eg chick "peep peep" = yellow, sheep "bah bah" = white/blue, Frog "ribbit ribbit" = green and pig "oink oink" = purple.
You don't need to worry about Hatchibabies making noise through the night as after two minutes of no interaction, they will fall asleep until you interact with them again.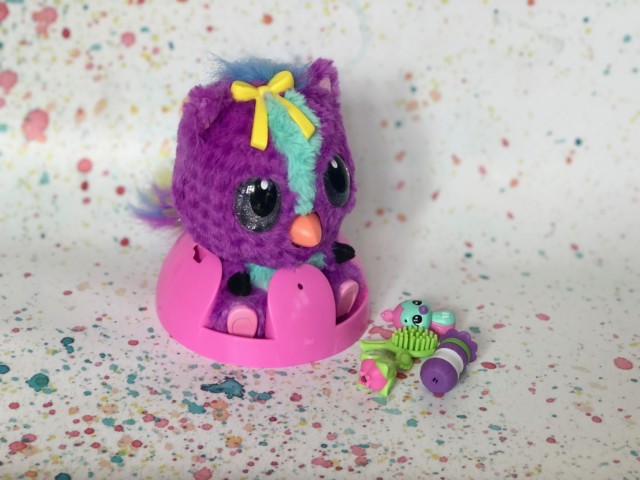 What did we think?
We've only had our Hatchimals Hatchibaby for a few days, but so far she has been a huge hit with both my girls.  there's something extra special about a baby Hatchimal and we love the addition of the accessories. Feeding and burping the Hatchimal is an especially lovely feature. Our Hatchibaby is definitely a wonderful addition to our collection.
For more information check out the Hatchimals website
We were sent a Hatchimals Hatchibaby to review